CAMEL POLO (January)
The event has many activities including camel racing, camel polo, best male and female camel awards. Organized in Erdene sum, Middle Gobi province. Also an open fair with local handmade products such as traditional clothes, games and dairy products are sold. The main aim of this event is to increase the population of rare two humpback camels.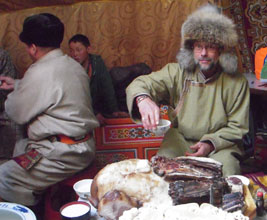 MONGOLIAN LUNAR NEW YEAR (January)
Lunar New Year is one of the most widely celebrated holidays in Mongolia. It is a great chance for you to watch Mongolian most wonderful part of its culture from closest angle. Family members respect their oldest in the clan by visit and greet. Also the Grand parents or the oldest brother embrace most nicely and treat with Buuz and many other banquets.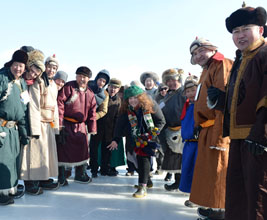 ICE ANKLE BONE SHOOTING GAME (February)
Ice ankle bone shooting game is one the traditional games played in winter season. From distance of 50 to 60m, attendance will release the ankle bone targeting the small barrels. The event will be organized on frozen Tuul river of Capital City Ulaanbaatar.
EAGLE FESTIVAL (February)
Kazakh people are one of the ethnic groups of Mongolia with Muslim religion. Kazakh's have tradition hunt with eagle for more than 2000 years. They mostly hunt rabbit, fox and wildcat. There are mainly three competitions held among Kazakhs including grab leather, grab bag and horse racing and more. Organized in Jargalant, Ulaanbaatar city.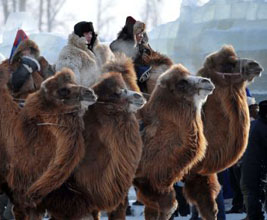 CAMEL FESTIVAL (March)
The event is organized by the Governor office of South Gobi province in Bulgan sum, South Gobi province. The festival program includes camel racing, camel polo, camels' parade and open fair with camel wool, camel dairy products.
Nauriz celebration (March)
Nauriz is the celebration of the ethnic group Kazakh people. The event is held in capital city Ulaanbaatar and has many programs including Kazakh traditional clothes parade, traditional food and other contests.
ITM-2015 INTERNATIONAL TRAVEL MART (March)
The ITM Travel fair will be held in Misheel Expo, Ulaanbaatar city. It is the biggest official International Tourist fair for all stakeholders of tourism industry in Mongolia. You are most welcome to visit our stand at any time to establish contact with our firm.
TRADITIONAL FOLKLORE CONCERT (May.1-October.1)
The national art Tumen Ekh ensemble gives the natural sound without usage of any acoustic technologies. The Exciting concert is showing drawling song, national folklore dance, national musical instrument, ancient and modern Mongolian Khan's dance, khuumii and mask dance.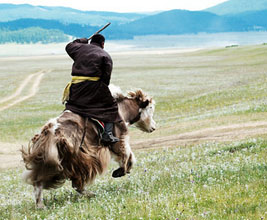 SAIKHAN YAK FESTIVAL (May)
The event is organized in Eagle Valley, Gobi Gurvan Saikhan national park, South Gobi province. This event is dedicated to introduce yak herding culture & promoting yak products. By visiting this event you will also see one the most famous attraction Eagle Valley.
MULTI ETHNIC FESTIVAL (June.1)
Khovd province is a cradle of various ethnic groups such as khalkh, uriankhai, zakhchin, and many more. The aim of the festival is to promote traditions, art and culture of national clothes of various ethnic groups.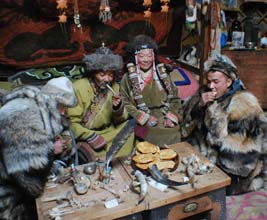 AUTHENTIC NOMADS (July.10-12)
This event is held in Khui Doloon Khudag where the National horse racing competition is held. The program includes Mongolian ethnicity, Mongolian GER and culture. There you have a great chance to take precious photos.
NAADAM FESTIVAL (July.10-13)
Naadam festival is one of the Mongolian most widely celebrated holidays. It is a great opportunity to experience the culture and people. The opening ceremony is held in Naadam stadium featuring parade and local famous singers, music from people of Mongolia. Then the manly sports such as wrestling, archery are played over two days. The horse racing is held in Khui Doloon Khudag 40km west from Ulaanbaatar. Also mini Naadams are held along the country in whole July. If you are traveling to Mongolian in following season you are most likely to see one of these mini Naadam festivals.
DEELTEI MONGOL (July.13)
Mongolian traditional cloth is called Deel which covers from lower knees to shoulder. Deel is accordant to its everyday nomad life, giving warmth in winter. In modern time Mongolians are designing even nicer Deel and wearing it during celebrations. The festival is comprised the folk art concert, parade-show in the Deel of Mongolian national clothes and Mongolian GER.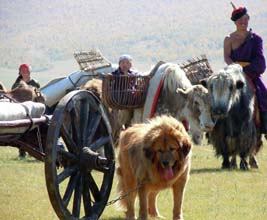 CELEBRATION OF ALTAI NOMADS (July)
The event is held in "Jaman  Tobe", 35km from Central province. The celebration is re-introducing old style carting and promoting history to travelers. There will be traditional game and daily nomadic life shows.
NATIONAL COMPETITION OF HORSE TRAINERS (August)
The competition includes activities such as taming a horse causing to buck, catching a horse with lasso. The winners will be awarded with Gold, Silver and Bronze medals. Also there are other contests such as trotting match, beautiful horse and couples with horse harness will be held.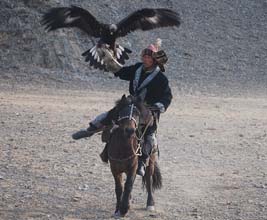 EAGLE FESTIVAL OF ALTAI KAZAKHS (September)
Kazakh people have been taming eagles and hunt with them since ancient ages. Mostly hunt fox, rabbit and wildcat with eagle. There are mainly three competitions held among Kazakhs including grab leather, grab bag and horse racing and more. Organized in Bayan-Olgii province.